The Association Forum (Forum) launched a research study in partnership with McKinley Advisors that provided a snapshot of the current state of DEI efforts — data and insights that were otherwise missing from the association sector. The data provided participating organizations with key indicators of their progress and performance around DEI, established benchmarks, and stimulated critical conversations and actions across the broader sector.
Challenge
The Association Forum has a long history of advocating for and supporting DEI, but the events of 2020 accelerated the organization's commitment — and members' calls — for more support. The Forum recognized that associations were at a critical crossroads between aspiration and action, and the association needed to respond quickly to support members in their journeys. More importantly, the Forum was committed to making outcomes as much a part of the conversation and planning as tactics. To deliver on this commitment, it would need data.
Solution
The Forum reached out to McKinley to conduct a review of past DEI research and literature and quickly learned that associations faced a substantive gap. To address the lack of data and insights, the Forum and McKinley launched a groundbreaking qualitative and quantitative study. The project included a systematic research approach with telephone interviews and two surveys: one aimed at staff and one at members. This allowed McKinley to analyze the two distinct audiences and show where perceptions of success deviated. The findings of the study revealed trends in a few key areas:
Overall views on how successfully associations have advanced DEI within their own organizations and collectively as an industry.
Gaps between staff perceptions of DEI performance and perceptions of the broader membership on key inclusion behaviors and indicators.
Key challenges that associations face in implementing action-oriented tactics to foster DEI.
Alignment between the diversity of the association and diversity of the professions and sectors they serve.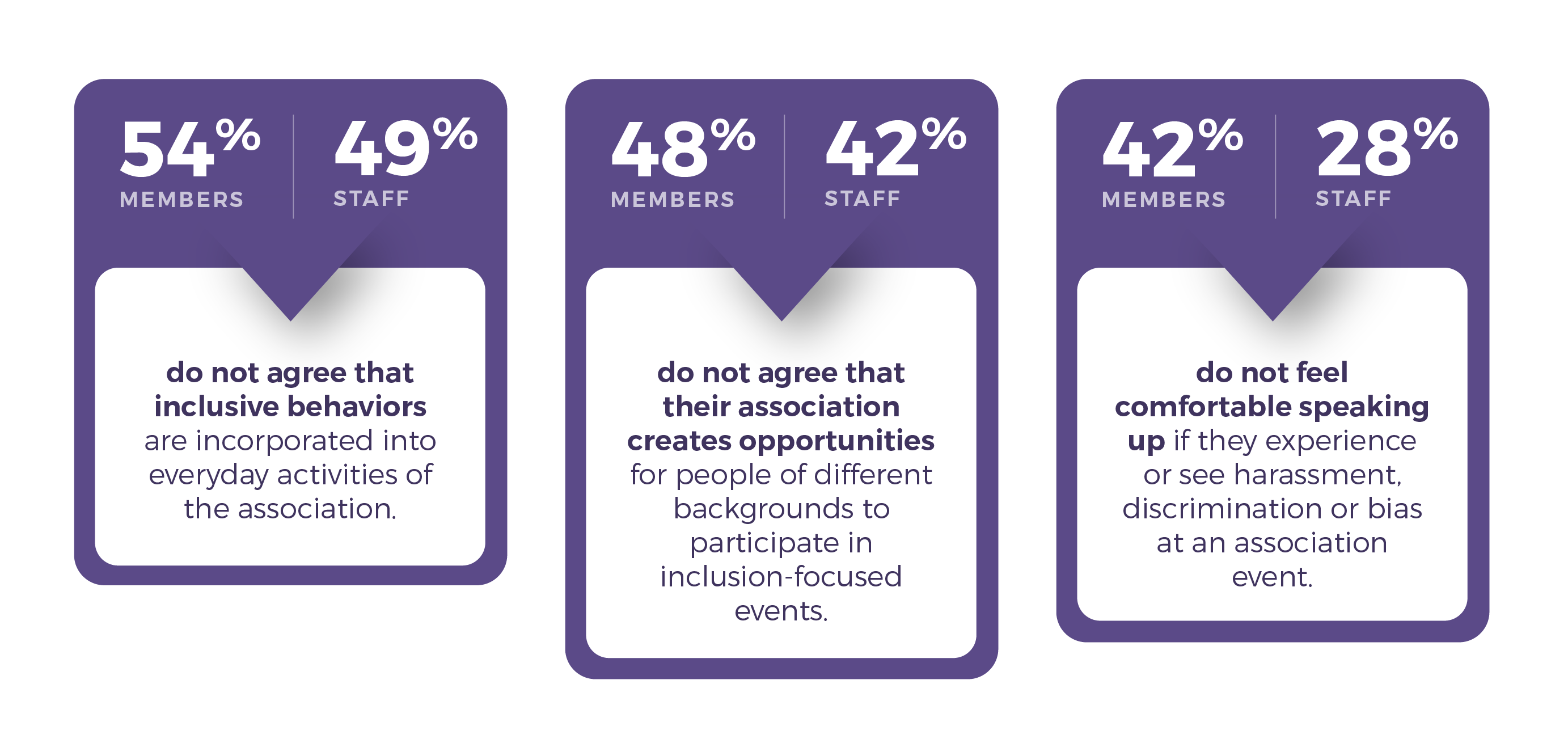 McKinley compiled and analyzed the research findings and shared the results on a facilitated webinar with the study co-sponsors. Each participating organization also received a tailored de-briefing to explore the findings in more detail and a white paper report outlining the findings. To ensure broad dissemination, the Forum and McKinley partnered to present the findings through a number of webinars, workshops and publications.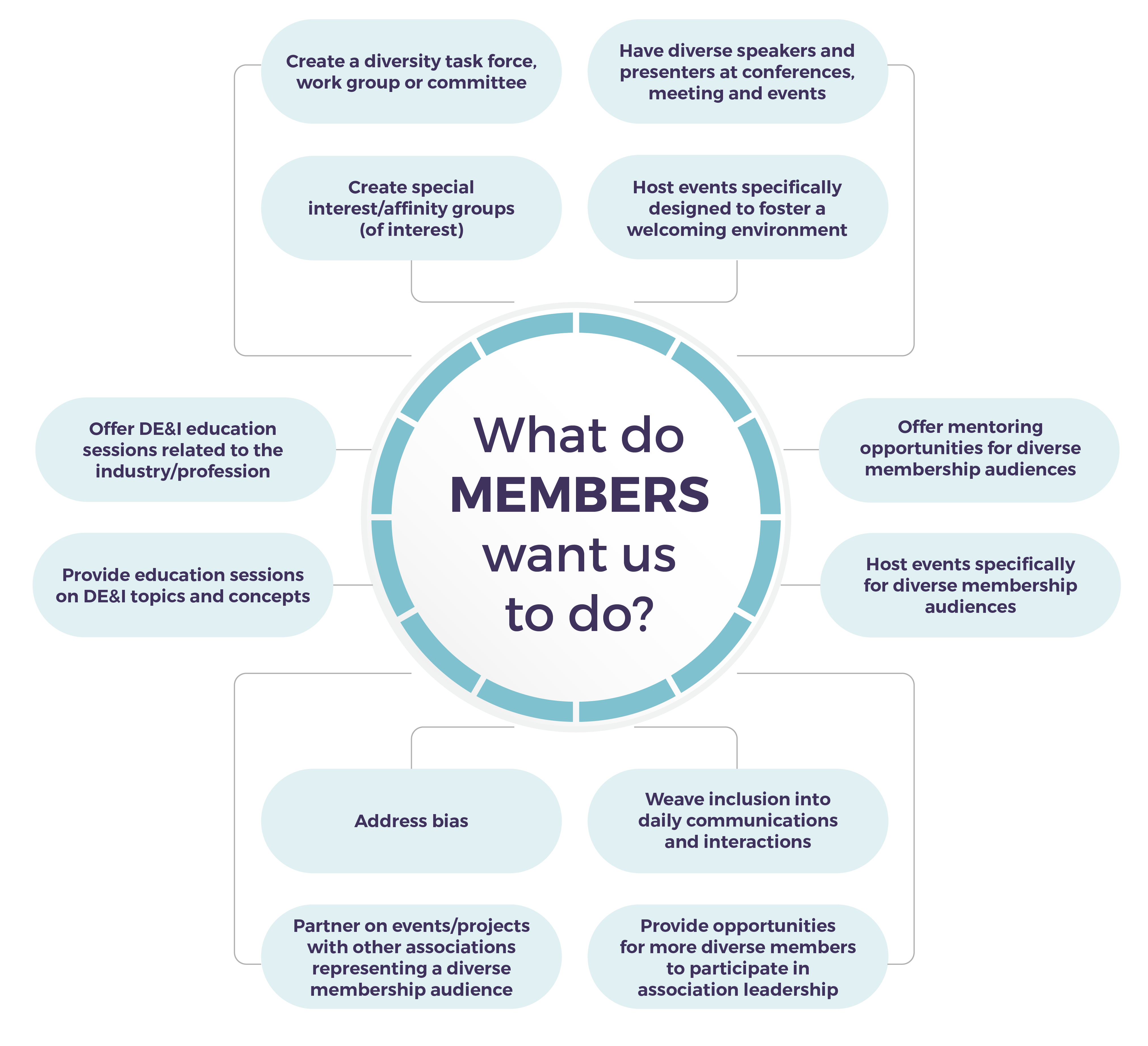 Outcome
The research revealed that fewer than half of all members reported satisfaction with the level of inclusion in their workplaces. At the same time, nearly 90% indicated it is one of the most important attributes to exist within the workplace. The co-sponsors of the study have embraced these findings, expressing their eagerness to get started. As Joel Albizo, FASAE, CEO of the American Planning Association shared, "What you want to create is a virtuous cycle…some activities create a foundation and lead to other virtuous activities. Then you have a pattern. Then a habit. And then a culture."
For the Forum, this project represents a launch pad for highly targeted DEI resources and a baseline to measure progress.
Participating co-sponsors
American Academy of Physical Medicine and Rehabilitation (AAPM&R)
American Planning Association (APA)
American Society of Anesthesiologists (ASA)
Association of Equipment Manufacturers (AEM)
Association of Women's Health, Obstetric and Neonatal Nurses (AWHONN)
Illinois City/County Management Association (ILCMA)
Institute of Real Estate Management (IREM)
SmithBucklin
Apra
National Society of Genetic Counselors (NSGC)
National Association of Personal Financial Advisors (NAPFA)
Society of Actuaries (SOA)
Wisconsin City/County Management Association (WCMA)
"When we initially approached McKinley about the WE project expansion, we had a vision and some goals. The racial injustices of 2020 were harrowing but they gave us an opportunity to help our members and stakeholders take real and measurable action. McKinley pivoted with us, translating the research data into compelling stories, facilitating honest and sometimes personal conversations about DEI with our members, and helping the community commit to next steps."
President and CEO, Association Forum