As the largest technology trade association in North America, the Consumer Technology Association (CTA) is the leading voice, advocate and convener in the sector. CTA provides indispensable value to members, particularly by hosting one of the most influential tech events in the world, CES (Consumer Electronic Show).
Challenge
Home to one of the largest trade shows in the world, CES, the association sought an equitable solution where companies of all sizes could find a home and grow with CTA. They also recognized that the organization was overdue for a rigorous analysis of its membership structure including tiers, benefits and dues model. Their objective was to adapt and evolve its offerings and value proposition to meet the needs of members and the sector over the coming years.

CTA brought on McKinley Advisors as a trusted partner to collaborate with their staff to uncover the challenges and opportunities surrounding their current approach to dues structure and pricing in context of trends, needs, challenges and desired outcomes and recommend a new, updated membership and dues model.
Solution
McKinley led an internal review of CTA's membership model and service portfolio, interviewed stakeholders to understand key elements of the value proposition, conducted a survey to determine pricing tolerances and preferences, and ran qualitative market testing of dues options and scenarios. Following completion of our research and analysis phases, we worked alongside the CTA project team to develop and vet preliminary concepts, identify models that best supported their objectives and growth, and advance detailed data analysis of preferred models to arrive at a structure suitable for presentation and approval to the CTA Executive Board.

Through the research we found that:
Forty-two percent of respondents indicated that the value they gain from membership is somewhat or far greater than the cost of dues.
Respondents were most commonly interested in membership pricing that is based on a member's ability to pay and broad and open access to CTA's full portfolio for a flat annual fee.
Using the collected data and analytics we recommended that CTA: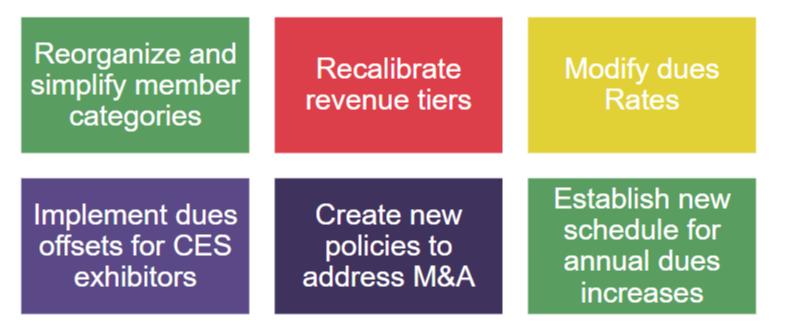 Outcome
CTA implemented the membership model and dues recommendations which will allow them to continue to expand and be competitive with their membership benefits and offerings. Their updated membership model includes:
New member categories.
Adjusted revenue tiers and dues rates.
New CES Rewards for CES exhibitors.
New Member Categories

CTA created new member categories that are more inclusive to reflect the technology industry's growth, create equity among member companies and accurately represent the value of CTA membership. These categories include core members, industry associate members and healthcare non-profit members.

There was not previously an opportunity for non-profits to be part of CTA, but as a result of the membership model restructuring a non-profit category for organizations that are providing healthcare services was added.
Revenue Tiers and Dues Rates

The data collected throughout the project uncovered that CTA members felt that the pricing tiers were complicated and unclear and that the CTA staff wanted the dues model to better align with the value of membership. McKinley worked with CTA to adjust their tiers and dues rates so that they could provide members with a comprehensive and standard dues model. The new structure was implemented for new members in May 2022. For existing members, the new structure was implemented for the 2023 renewal cycle.
CES Rewards

McKinley recommended a new rewards program for companies who participated in CES in order to create more equity among members' total investment in CTA. CTA implemented the CES Rewards program and through the new program members who spend at least five times their dues rate on CES exhibit space, sponsorships or other CES investments will receive a discount on the following year's membership dues.
Impact
In January 2023, CES exceeded their 100,000 attendee goal with more than 115,000 people from 140 countries, making it the largest audited global tech event since early 2020. They had more than 3200 exhibitors, including 1000 startups.

The data-informed updates have allowed CTA's membership model to reflect the industry, remain competitive and maintain CTA's industry leading member benefits and offerings.

Read more about the impact of our work with CTA in the Associations Now article, "Membership Makeover: How the Consumer Technology Association's New Member Model Zooms In—and Out."

Connect with an expert at McKinley Advisors to learn how an updated membership model can transform your association.
"The Consumer Technology Association (CTA) values its members and the unique role they play as innovators within the tech industry driving our global economy. CTA needed to move beyond our previous membership model. We wanted to better reflect our members and the technology industry which meant it was time for CTA to innovate. Thanks to McKinley Advisors we were able to move forward in a positive way which rewards our members and aligns to the needs of CTA."
SVP, CES & Membership, CTA